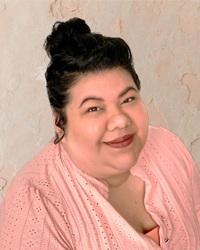 Toppacio Rodriguez, M.S. LMFT

| Licensed Pychotherapist




Hi there, my name is Toppacio Rodriguez but you can call me Topy, and my pronouns are she/her (ella/ellas). I am bilingual and can provide support in English and in Spanish. I want to steal a moment to write 'thank you' for taking the time to be here. I am a Licensed Marriage and Family Therapist. I have worked with a variety of people, from different economic statuses, ethnicities, cultures, races, genders and sexual orientations. I enjoy working on a systemic level with kids, teens, adults and couples. This means that we would work on the whole self and nurture the different aspects in your life. The modalities that I use come from an array of therapeutic theories. I am certified in Trauma Focused Cognitive Behavioral Therapy (TF-CBT) and Managing and Adapting Practice (MAP). I have worked with children who have atypical brains, such as, children on the Autism Spectrum Disorder and children who have Fetal Alcohol Spectrum Disorder. I have worked with survivors of sexual assault (children to adults) and of domestic violence.






I started my journey as a therapist with Strength United where I was taught how to help families maneuver through the ins and outs of the Department of Child and Family Services (DCFS), in working on reunification and helping children and parents heal from their exposure to adversities and generational traumas. I got the ability to work with teens within the probation system in developing skills to reintegrate into societal norms and acceptable members of the community. My time at Strength United also provided me with experience of working with sexual assault survivors and their family members to process the painful experience and work towards facing the world with a new self.

As I continue with my journey of providing support to different communities I obtain experience and knowledge about my craft. Within my work in a San Fernando Community Mental Health agency I am trained to enhance self-awareness, insight, problem solving and molding myself as a map or GPS on your journey in facing yourself and building the courage to be your true self. We are all born into a world where we do not always fit in.

Have you ever had a moment where you told yourself "I don't even know who you are" when you look in the mirror? I think we all have at one point or another. In therapy we will create a safe space for exploration and enhancing your strengths. With guidance and support we can work on developing strategies and skills to empower self-growth, self-awareness and heighten your self-esteem. Your journey of self-discovery and self-improvement will be supported through communication, modeling and rebuilding what's desired for the self.

Please call or email for a free 15 minute consultation to see if we are a good fit. Thank you.